Product Returns Tracking System
The database DMW created for its client records damaged, faulty and incorrectly ordered or dispatched goods returned by customers.
Tracking applies to write-offs, returns to stock and replacement goods.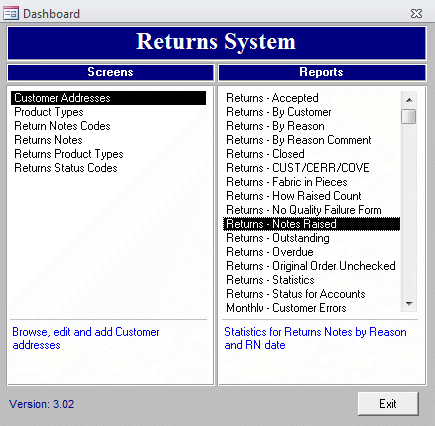 The system maintains a complete history of communications with customers and with the shipping agents and produces returns notes and other standard documents that form part of the returns process.
Analysis of patterns of returns highlights possible manufacturing problems and impact on stock levels, and analysis of shipping agents' and carriers' performance extends the monitoring process. Periodic reports provide operational and financial information.
---
Value to Client
A systematic approach to product returns:
Improved product quality control
Automated printing of returns notes, carrier forms, etc.
Early identification of potential supply trouble spots
Means of pinpointing a problem customer
Improved supplier/customer relationship
Monitoring of shipper and carrier performance
Monitoring of financial implications of returned goods.
---
Client
An international manufacturer and supplier of fabrics, paints and wallpapers.
---
Development Platform
Microsoft Access and VBA, on a local area network providing availability of the datbase to multiple concurrent users.