Contact Enquiry Management System (CMS/EMS)
The DWM Consultancy's CMS/EMS (Contact/Enquiry Management System) provides the means of recording enquiries and of following their progress as they processed through the business.
The contact/enquiry management system has been developed with these features in mind:
Suitable for SMEs, at an affordable price
Ease of use and maintenance
Customisable for each client, within a budget
Modular structure to facilitate off-the-shelf extras.
---
Core Components
The core of the CMS/EMS, which prior to delivery we tweak to suit the particular business in which it is to be used, includes:
Contact personal details recording
Enquiry details recording
Action point planning and recording
Response assignments
Assignment logs reporting history of contacts and follow-ups
Personnel activity
Response logs reporting reactions to sales and marketing initiatives
Enquiry progress and status tracking
Conversion (enquiry-into-customer) analysis
Performance indicators (personnel/product/service)
Mail merge (for follow-ups, etc.)
Management reporting.
---
Modules
These are two general-purpose modules that extend our CMS/EMS as a marketing tool:
Events and Promotions
Provides mail-merge support for your PR, marketing and event management efforts and tracks response to each initiative.
Client Lifestyle
If you keep lifestyle information about your prospective customers, you can filter your prospect base to target efficiently and to track links between lifestyle factors and the interest exhibited by your prospects in particular products or services.
If your requirements are not covered by existing modules, we will develop new, or adapt existing , modules to suit your business.
---
Example - Car Dealership Customer Enquiries
The main Dealer Management System of our client — a Land Rover dealership — would accept information only once a vehicle purchase had been made. Records of enquiries that did not lead immediately to sales ended up in a mish-mash of emails, spreadsheets, telephone records and diary entries. That is, if a record was kept at all.
DMW supplied an EMS database to capture all enquiries from people who were not yet customers of the dealership: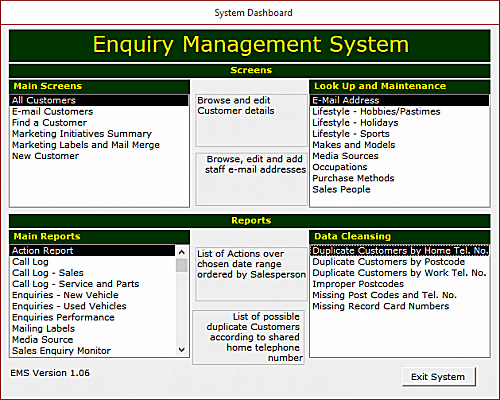 Our client logged nearly 4,000 new contacts in the first four year's use of EMS, and selectively marketed these potential customers from within EMS.
Contact details, call log and action log, vehicle preferences and test-drive details, and lifestyle profiles are stored in CMS/EMS and are mixed and matched to present marketing and sales opportunities.